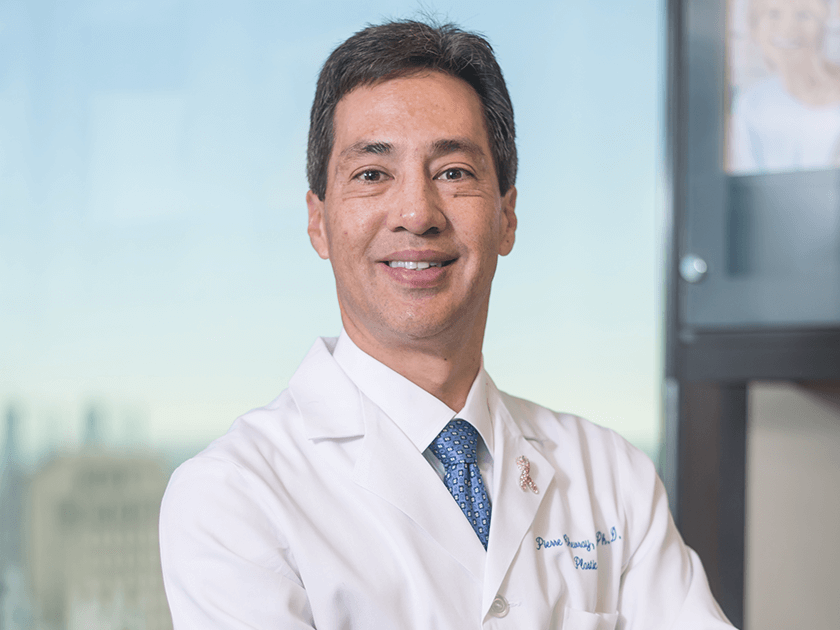 Dr. Pierre Chevray is a board-certified plastic surgeon who specializes in complex breast procedures. He obtained his medical degree from the Johns Hopkins University School of Medicine in 1994 and completed a plastic surgery residency at the University of Maryland in Baltimore. From there, Dr. Chevray has worked at some of the country's most prestigious hospitals such as MD Anderson and currently at Houston Methodist Hospital. Having been a certified surgeon since 2001, Dr. Chevray is skilled in performing a variety of cosmetic and reconstructive procedures through personalized treatment plans. With expertise and many qualifications, Dr. Chevray provides the best possible results and comfortable treatments for each of his Greater Houston area patients.
View Full Site
Reviews
"Dr. Chevray did a wonderful job with my procedure. He took the time to understand my concerns and my case for the best possible plan of action. He and his team took the best care of me and made sure I was comfortable and happy with my results. He was conservative in his approach as well, which I appreciated. His team is outstanding. Nurse Carol is the warmest and sweetest person you'll ever meet. She took note of everything I said, all my concerns, and remembered the smallest details. His PA Patrick was so helpful, especially post-op. We called a few too many times with our questions and concerns and Patrick was able to assist quickly. I appreciated Dr. Chevray's team and the services they provided. I did feel like the team was my family that only wanted the best for me. I was extremely pleased with my results as well. Thank you so much to Dr. Chevray and his team for getting me where I wanted to be, comfortable and confident."
P.
Healthgrades
"Dr. Chevray, Carol and Patrick are an amazing group and they are the greatest. All three listen to what you have to say and they truly care about you, the person. Dr. Chevray did a fantastic job on my surgery. I am very pleased. I highly recommend him."
J.C.
Google
"My diep flap reconstruction went smoothly. No 2nd touchup needed. I healed in 4 weeks and resumed my life. I am almost a year out since my reconstruction. I highly recommend this office & Dr Chevray. His team, Caroline & Patrick also helped me along this journey of recovery. I'm so happy with my results!"
J.C.
Google
"I found Dr Chevray to be very direct and professional in his approach. He was also companionate and willing to educate. Many women have the reconstructive experience only once, making the first impression the only impression. I would choose Dr Chevray again!"
D.I.
Google
"Dr. Chevray is an amazing doctor. I have been a patient of his (as well as two of my sisters and my niece) this past year after finding out I (we) carry the BRCA1 gene; so all the surgeries were preventive surgeries. From the first appointment with Dr. Chevray and his amazing staff they make you feel like family. Their kindness, caring and they way they comfort you will always have a special place in my heart. I am also hearing impaired so communication can be very difficult for me and not one time did Dr. Chevray nor his staff make me feel uncomfortable. They always went beyond the extra to make sure I understood my condition/ procedures at that time. Whether they had to draw pictures/diagrams, excessive repeating themselves over and over again, looking at me with direct contact so I could read their lips so I was able to communicate with them and understand what procedures that were being done at that time. I truly do not think I could have made it thru this difficult time in my life without Dr. Chevray and course Carol and Patrick. Thank you for being the doctor you are and thank you to you and your staff (even the receptionist) for being so understanding of my condition and making me feel like family."
K.
Google